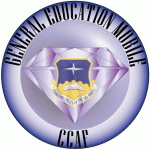 Northwestern State University (NSU) is proud to partner with the Community College of the Air Force (CCAF) in supporting the General Education Mobile (GEM) Program. The NSU GEM Program's pre-approved courses meet Air Force members' CCAF Associate in Applied Science Degree's general education requirements in a distance learning format.
Courses are available in various term lengths, including:
Fall semester- 16 weeks or 8 weeks
Spring semester- 16 weeks or 8 weeks
Summer semester- 12 weeks, 8 weeks, or 4 weeks
GEM course tuition rate is $192 per credit hour. Please contact us at barksdale@nsula.edu or 318.741.2801 to ensure establishment of this tuition rate.
NSU is currently approved to offer the following online courses in the GEM curriculum:
Recruitment of Military Students
NSU Barksdale Office
318.741.2801
barksdale@nsula.edu
Electronic & Continuing Education
Northwestern State University
318-357-6355 or 1-800-376-2422
ece@nsula.edu