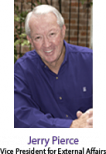 External Affairs is a diverse segment of the university that includes Athletics, Alumni and Development, Wellness, Recreation and Activities Center (WRAC); NSU Press/Publications, Marketing and Branding, NSU TV, University Printing, the News Bureau, Photo Services and Sports Information.  These offices provide services to promote a positive image for the university, maintain relationships with the media and engage alumni, prospective students, donors and government and civic leaders.
Jerry Pierce is vice president for External Affairs.  In his role, he supervises the units within his division, coordinates governmental relations for the university and directs numerous endeavors related to public relations, community service, promotions, marketing and institutional advancement.  He works closely with the president and other vice presidents to implement university policies and procedures.
Each unit of External Affairs works the university community-at-large to recognize students and faculty, create awareness of news, programs and services on campus and engage the community outside NSU by bringing them to campus for athletic, academic and cultural events and to utilize the WRAC, NSU's state-of-the-art fitness and wellness center. These units play an important role in showcasing the university and impacting enrollment, fund raising, alumni and community involvement, and other goals.  The Division is directly involved in promoting a learning-centered environment, improving retention and graduation rates and maintaining a positive, student-oriented atmosphere.
In recent years, two major fund raising campaigns have exceeded goals, alumni engagement is at an all-time high, graduation and academic progress report rates in intercollegiate Athletics are among the highest in the state and media services and marketing activities are reaching a global audience.
To contact Vice President for External Affairs Jerry Pierce, call (318) 357-6588 or e-mail pierce@nsula.edu.