Office of First Year Experience
2018 Freshman Connector Application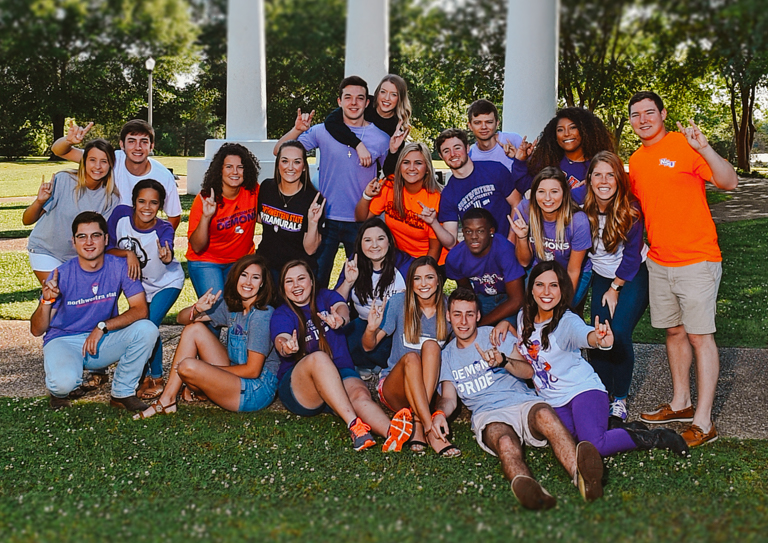 Forms closed for submission.
The First Year Experience Office provides a variety of opportunities for current students to serve Northwestern State University through assisting first-year students and their families in their transition to campus.   Freshman Connectors facilitate orientation programs, manage events, and leave lasting impressions on new students and their families.
Freshman Connectors are expected to possess a specific body of knowledge about Northwestern State acquired through training and experience, and they must be sincerely interested in and skillful at sharing this information with orientation participants.  They must also have a passion for serving others, a positive attitude, and have the desire to be a positive role model.  Selection to the team is a unique honor and a rewarding opportunity for personal and professional growth.  Successful candidates must have a genuine desire to represent NSU and to grow as student leaders.
Terms & Conditions of Employment | To be eligible to serve as a Freshman Connector, you must:
be a full-time student in the spring 2018 and fall 2018 semesters
maintain a minimum cumulative GPA of 2.0
enroll in and successfully complete OR 1100:  Orientation Leader Skills Training
actively participate in all Freshman Connection retreats, training sessions, and reflection activities
be available for all sessions of Freshman Connection
reside in university housing during Freshman Connection programs
uphold the NSU Student Code of Conduct
be willing to handle high levels of responsibility
Expectations | As a Freshman Connector, you will be expected to:
demonstrate enthusiasm and passion for Northwestern State University
be knowledgeable of Northwestern State services, resources, policies and procedures
work effectively with a diverse group of team members, students, parents, faculty, and staff
perform all responsibilities in a punctual, reliable and conscientious manner
exercise mature judgement, flexibility, and patience
act with integrity, behave ethically, and display appropriate behavior and decision making
Responsibilities | As a Freshman Connector, you will be responsible for:
creating an open and welcoming campus environment for new students and their families
serve as a positive representative of the University to new students and their guests
promote interaction among groups of new students during small group discussions, get acquainted activities, meals, and events
explain academic advising and course registration procedures
facilitate small group interactions on various topics, including course enrollment and campus life issues
facilitate social activities for new students through direct involvement and participation
participate in the creation and production of various orientation performances, presentations, and evening activities such as Opening Session and the Southern Regional Orientation Workshop (SROW) events
provide administrative support for the Freshman Connection and Parent Connection programs, including preparation of orientation materials
Important Orientation Dates
OR 1100 – 01N for spring 2018 semester (MWF 12:00 – 1:00 PM)
Spring Retreat, January 11 – 13, 2018
Assist with New Student Orientation for the Spring 2018 Semester on: Thursday, January 11, 2018
Southern Regional Orientation Workshop (SROW) at University of Central Florida (Orlando, Florida) March 15 – 18, 2018
Leadership Retreat at Dry Creek, LA, May 7 – 9, 2018
Freshman Connection Work Week, May 21 – 23, 2018
Freshman Connection Sessions: May 24-25, May 31 – June 1, June 21-22, July 10
Assist with New Student Orientation for the Fall 2018 Semester on: Thursday, August 16, 2018
Compensation & Benefits
$500 Scholarship – applied for the fall 2018 semester
Meals and housing during each Freshman Connection session
Conference related expenses (SROW and Connector Retreats)
Orientation Uniforms
Summer 2018 WRAC Membership
Selection Process Overview | The selection process for Freshman Connectors will take place in three phases:
Phase I – The Application. The application is designed to better inform us about an applicant's strengths, academic pursuits, and motivation for becoming a Freshman Connector.  Please be concise in your written responses.  Applications must be received no later than Friday, November 3 at 1:00 p.m..  Applicants meeting the outlined "Conditions of Employment" will be invited to participate in the Phase II – Experiential Interview.
Reference: List the name and contact information for one campus reference (name, position, phone number, and email).  The reference must be associated with the University (faculty, staff, administrator, advisor, residence life director, etc.).   Your application is not complete until we receive a completed Reference Form.  Reference forms must be received by Friday, November 3 at 1:00 p.m.
Phase II – Experiential Interview.  Monday November 13, 5:00 p.m., in the Student Union Ballroom.  The Phase II – Experiential Interview will last up to three (3) hours and is our opportunity to get to know you better through a variety of individual and group activities.  The experiential interview is designed to assess each applicant's communication and listening skills, creativity, flexibility, maturity, cooperation, and leadership style in a diverse environment.
Phase III – Small Group Interview. Candidates who are selected to continue in the process will be invited to schedule a Phase III small group interview.  Interviews will be held Wednesday, November 15 and Thursday, November 16.  Dress is business casual.