Regional News
The Work of Tribal Hands: Southeastern Indian Split Cane Basketry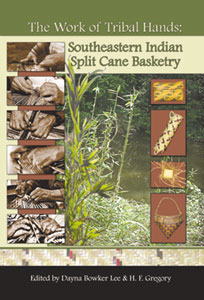 Book Ordering Information:

NSU Press Publications
Northwestern State University
P.O. Box 5305
Natchitoches, LA 71497
318-357-4586
sepulvado@nsula.edu

Title:

The Work of Tribal Hands: Southeastern Indian Split Cane Basketry

Editors:

Dayna Bowker Lee & H.F. Gregory

Description:

7" x 10" soft cover
150 pages
13 Contributors
160 photographs

Book Price:

Single copy is $30.00 plus $3.00 shipping
6 -11 books discounted 30% plus free shipping
12 or more books discounted 40% plus free shipping.

Reissued LFRS Recordings
The Louisiana Folklife Center and the Louisiana Regional Folklife Program have reissued some LFRS recordings on compact disc. Spanish Decimas from St. Bernard Parish, Cornbread for Your Husband and Biscuits for Your Man: Mr. Clifford Blake, Sr., Calls the Cotton Press, and The North Louisiana String Band are available for $15. Contact richmonds@nsula.edu to order.
Proceedings of the Southeastern Indian Basketry Gathering
Proceedings of the Southeastern Indian Basketry Gathering, May 16-17, 2002. Contact richmonds@nsula.edu to obtain copies. The Creole Chronicles, Volume 1, Cane River Community, based on the Cane River Creole Driving Tour is available from the Creole Heritage Center. Other volumes are also available, contact colsonj@nsula.edu.
Site design and maintenance
Please contact Stacy Fontenot via email at stacyLfontenot at gmail dot com with any errors or problems you experience using this site.