We are assaulted daily by thousands of messages. Some are good and delivered well and some we ignore. It depends on the quality of the communication. In life, those who communicate best usually achieve more. Fortunately, communications skills can be taught. That's what we do best.
Students pursuing a degree in Communication polish speaking, writing and multimedia skills through experiences in and out of the classroom. Innovative courses prepare students for hundreds of jobs that require a foundation of communication skills. TV anchors, radio show hosts, bloggers, photojournalists, graphic designers, social media managers, speech writers, public relations specialists, reporters and scores of others all rise according to their communications skills.
Faculty members with professional experience lead students in class and student media activities. In addition, our internships prepare students for the workforce as they apply skills learned on campus in work settings.
Earning a bachelor's degree in Communication at NSU puts you in the inside lane on the race track for your tomorrow. Ask us about the exciting opportunities awaiting you in a Communication major or minor. Available concentrations include Strategic Communication, Broadcast and Digital Media Production and Multimedia Journalism.
Strategic Communication: Encompassing organizational communication and public relations, this concentration offers a course of study for students to learn how individuals and organizations use communication and media to deliver messages to targeted audiences. Courses will focus on how organizations and media influence opinions and the behavior of key publics. The curriculum will emphasize an ethical approach and will analyze societal effects of strategic communication practices.
Broadcast and Digital Media Production: Students will learn to create, produce, and disseminate broadcast media of varied genres and styles. The knowledge and skills learned will prepare students for broadcast media and broadcast production careers in industries such as television, radio, film, videos, and Web delivery. Through hands-on instruction, students learn to research, write, produce, and direct media rich content.
Multimedia Journalism: Informing the public through accurate and well-written stories remains at the core of journalism. Beyond the basics of reporting and writing, journalists today must adapt to changing technologies and become proficient in multimedia storytelling – combining text with images, sounds, videos, and graphics to reach diverse audiences. This concentration will prepare students for varied journalism careers in media industries such as newspapers, magazines, Web, and social media.
Department of New Media, Journalism, and Communication Arts
239 Kyser Hall
Northwestern State University
Natchitoches, Louisiana 71497
Phone: (318) 357-5360
Email: newmedia@nsula.edu
All students are encouraged to consult with a departmental adviser prior to enrolling each semester. The department will assign a faculty or staff member for each student. Students will find their adviser's name on NSU's DegreeWorks. For questions or assistance with advising, please, contact newmedia@nsula.edu or call 318-357-5360.
For general planning purposes, please, see the Major Requirement Checklist below. The University Catalog provides course descriptions and other academic requirements. Please, see page 76 for the Department of New Media, Journalism, and Communication Arts.
NEW MEDIA TO HOST FIRST STUDENT SHOWCASE FEATURING PHOTOGRAPHY AND GRAPHIC DESIGN
NSU Communications students and faculty will showcase their photography and graphic design skills in a New Media Gallery Exhibition March 19-31, 2018, in Gallery 2, New Fine Arts Building. The exhibition will also honor and feature work by the late Robert Crew, a beloved NSU graduate, university executive and noted photographer.
A first for the Department of New Media, this exhibition was inspired by the quality of student work produced for classes and student media. Instructor Emily Zering, who also earned her master's in art at NSU, proposed the event and has coordinated with Leslie Gruesbeck, associate professor of art and gallery coordinator, and Dr. Ron McBride, who teaches photojournalism.
"Besides providing students with a foundation for becoming photojournalists, it is important for them to prepare a portfolio that demonstrates their talent and understanding of a discipline that suggests a photo can become a stand-alone story. I have witnessed in their assignments how they grasp the objectives and demonstrate their interpretation of the elements of good photojournalism," said McBride, former journalism department head and current adjunct faculty member. "I have been amazed at the quality of work, especially when you consider most have never used a DSLR camera. I'm delighted for them to have the opportunity to exhibit their work in the department's Student Showcase."
Besides showcasing student and faculty work, the exhibition is designed to increase student awareness about media industry career opportunities and the importance of visual communication skills.
"As a department within the College of Performing Arts, it's important for our students and faculty to showcase their creative talent," said Dr. Paula Furr, New Media Department head. "We are so honored that the Crew family has chosen our department to award an annual scholarship to a student from Louisiana majoring in digital media/journalism."
The gallery exhibition is open to the campus and public. A reception March 22 from 4:30 to 7:30 p.m. in Hanchey Gallery is also open to the public. Those who plan to attend are encouraged to RSVP at www.nsulastudentshowcase.com.
The website also has more information or contact Emily Zering at zeringe@nsula.edu.
Internships are a vital part of a Communication Degree at Northwestern State University. Students are required to complete at least one professional internship before graduation.
Requirements for enrolling in COMM 4910 Communication Internship are:
Junior or senior standing
Overall minimum 2.0 GPA
Permission of instructor at an approved internship site
Maximum of 9 hours of concurrent enrollment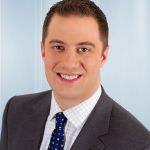 Lane Luckie is the anchor of Good Morning East Texas, the #1 rated morning newscast in East Texas. He joined KLTV, the ABC affiliate in Tyler, Texas in 2012.
Lane previously served as evening anchor and executive producer at KTRE-TV in Lufkin and Nacogdoches. He came to East Texas from KTAL-TV in Shreveport, where he was a general assignments reporter. Lane also spent four years working for the Natchitoches, Louisiana Convention & Visitors Bureau. During college he completed internships at WFAA-TV in Dallas, Texas and KPLC-TV in Lake Charles, Louisiana. A Louisiana native, Lane earned a Bachelor's degree in Broadcast Journalism from Northwestern State University. Lane is a huge history buff and sees journalism as an ideal opportunity to write the first draft of history as it happens. He hopes his passion for lifelong learning encourages others to take an interest in knowing their community. Lane's work has been recognized by several journalism organizations including the Broadcast Education Association and the Southeast Journalism Conference. A proud NSU grad, Lane has been named to the board of directors of the Northwestern State University Alumni Association. He's an alumnus of Pi Kappa Phi Fraternity and serves as president of the Beta Omicron Alumni Chapter and Housing Corporation. Presenting at dozens of college campuses across the country, Lane has been named national 'Volunteer of the Year,' 'Facilitator of the Year,' and was named to the fraternity's 'Thirty Under 30' list. Lane has also served on the faculty for numerous leadership conferences and an emerging leaders institute held at the University of South Carolina. Lane has worked with elementary students through the H.O.S.T.S. program and serves on the pastoral council of the Cathedral of the Immaculate Conception in Tyler. Much of his spare time is spent exploring new destinations, photographing people and places along the way. He's an avid college sports fan and never passes up an opportunity to embarrass himself on the golf course.
<!–
Below are a list of our recent graduates and their accomplishments:
Ruth Wisher
BA Communication
Press Secretary for La. Attorney Gen. Jeff Landry.
Emily Frame
BA Communication
Editor, Winn Parish Enterprise
Kimberly Hardeman
BA Communication
Morning News Producer, KSLA News 12 TV Shreveport
Caleb Strange
BA Communication, BS Hospitality and Event Tourism (double major)
Assistant, Creative Artist Agency, Nashville
Jordan Smith
BA Communication and Liberal Arts (Louisiana Scholar's College at NSU)
Junior Account Associate–Search Influence (specialists in search engine optimization, SEQ)
Daniel Thiels
BA Communication
NSU Student Media Coordinator–Owner Southern Breeze Productions
Randa Lopez
BA Communication
MA Library Science from LSU
General Librarian/Agricultural Support Librarian, LSU Library
Katelon Ramos
BA Communication
Booking Agent/Intern at In Touch Entertainment, New York
April Jenkins
BA Communication
Web Design and Social Media Marketing, American General Media; Producer for 99x and 99.2 The Point radio, Durango, Colo.
Tiandra Williams
BA Communication
Graduate Student
Georgia State University
Master of Science in Marketing
Andrea Nedorostova
BA Communication
MA in Professional Journalism, University of Texas at Austin
Editor/Data Analyst, Apple Inc.
Bailee Cartwright
BA Communication
Marketing Manager, Faith Hospice of Oklahoma
Alexis Reliford
BA Communication
Assistant Social Media Editor, Essence Magazine, New York.
Micah Pickering
BA Communication
Producer/Morning Show Host, Balridge Dumas Communications
Hannah Richardson
BA Communication
Writer/Reporter, The Natchitoches Times
| Name | Job Title | Office Phone | Address |
| --- | --- | --- | --- |
| David Antilley | Manager/Director NSU TV | 318-357-4417 | 104A Kyser Hall |
| Kenneth Burns | Student Media Coordinator | 318-357-5364 | 225E Kyser Hall |
| Dr. Jon Croghan | Associate Professor | 318-357-5363 | 237B Kyser Hall |
| Arthur Dew | Instructor | 318-357-5572 | 225F Kyser Hall |
| Dorian Elaine Eaton | Instructor | 318-357-5360 | 237D Kyser Hall |
| Dr. Paula Furr | Professor and Department Head | 318-357-6166 | 239E Kyser Hall |
| Ron McBride | Instructor | 318-357-5360 | 239 Kyser Hall |
| Stephen Merrill | Assistant Professor | 318-357-5666 | 237C Kyser Hall |
| Jerry Pierce | Assistant Professsor, Vice President for External Affairs | 318-357-6588 | 103 Prather Coliseum |
| Courtney Rachal | Administrative Assistant | 318-357-5360 | 239 Kyser Hall |
| Becky Stephens | Administrative Assistant II | 318-357-5360 | 239D Kyser Hall |
| Raymond Strother | Wise Endowed Chair in Journalism | 318-357-5360 | 225H Kyser Hall |
| Thomas Whitehead | Professor Emeritus |  318-357-5360 |  239D Kyser Hall |
|  Emily Zering |  Instructor |  318-357-6176 |  237C Kyser Hall |