COVID-19: Your safety is a priority. To that end, we have a resource page with specific safety measures that are in compliance with recommendations from the Center for Disease Control. We will continue to do everything that we can to decrease the spread of COVID-19. You can view these resources by clicking HERE.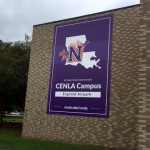 The Northwestern State University CENLA Campus serves the Central Louisiana Region and contributes to the overall education, development, and experiences of students by locally offering support services as well as courses through various delivery methods to include face-to- face, compressed video, and online delivery, which contribute to the workforce needs of our employers and community.
The academic facility is located within the England Industrial Airpark in Alexandria which is easily accessible to major highways connecting the various parishes of Central Louisiana.
Office Hours: Monday through Thursday 7:30am to 5:00pm and
Friday 8:00am to 12:00pm.
For some degree programs, NSU Cenla Campus incorporates Internet and/or Compressed Video classes as well as many face-to-face classroom offerings.
For current class schedules and additional information, please come by and visit the NSU Cenla Campus or click the appropriate link of this webpage for schedules.
Associate of Science in Nursing (ASN)
Business Administration
Criminal Justice
Nursing – BSN
RN to BSN Completion Program
Radiologic Sciences
Social Work
General Studies
Child and Family Network
Child Care/Provider Training
Referral
Consultation & Parenting Programs
Lien McGehee, Childcare Specialist
Office Number: 318-484-2184 ext. 117
Email: mcgeheel@nsula.edu
Northwestern State University – CENLA
1410 Neel Kearby Blvd.
Alexandria, LA 71303
Phone: 318-484-2184 Option 2