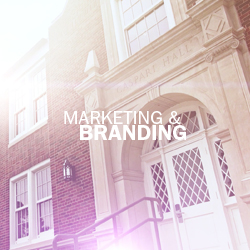 NSU's Office of Marketing and Branding ensures that the university's brand and graphic identity are protected and adhered to.   Director of Marketing and Branding Cole Gentry creates strategies to market new and existing programs and manages the creation and production of materials in print and online that addresses prospective student information and promotional materials for use at conferences and events.  The office manages a broad range of marketing tools, including digital, print, mail, broadcast, social network and other media.  The Office of Marketing and Branding works closely with Informational Services to create marketing and advertising products and coordinates budgets and costs related to purchased exposure and advertising. The Office coordinates the message of marketing campaigns and develops plans that encompass research, advertising, promotions and public relations to enhance recruiting and retention.
Visual Branding Guidelines & Downloadable Files
These guidelines join existing guidelines for Northwestern State Demon trademarks previously issued from the Northwestern State Department of Athletics. For questions regarding usage of the marks or the guidelines, please contact the Director of Marketing and Branding, Cole Gentry.
Vendors, media and others are encouraged to download the links below for basic versions of the brand identities. Please contact Northwestern State Creative Services or Marketing and Branding for vector files.
Social Media Policies for Official University Pages
Departments or university units with social media pages are required to notify the campus Social Media Team and the Director of University Marketing and Branding to register their pages and provide names and contact information for individuals who are responsible for maintaining the social media accounts. The goal is to provide coordination and assistance to all Northwestern State official social media areas, and to avoid duplication and confusion regarding certain social media services which operate with a single master account.
Social Media Guidelines for Faculty & Staff
Northwestern State encourages its faculty, staff and students to engage in a robust use of social media to forward conversations and knowledge. At the same time, it is important to remember there are certain limits to privileged, confidential, or protected information that must be observed.
Cole Gentry – Director of Marketing & Branding
Telephone: 318-357-4245
John S. Kyser Hall – 153
Send comments or questions to gentryc@nsula.edu