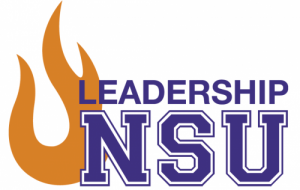 "Perspective"
January 27 & 28, 2017
2017 marks the second year of this exciting new program for students at Northwestern State University. This program is designed to offer a leadership conference experience for students who may not be able to attend an event such as this elsewhere. NSU will bring the leadership training to you!
This year our conference theme, "Perspective" conveys our hopes that you will be able to develop and learn new skills to better your organizations and personal growth no matter where you are on the leadership scale. Whether you are a senior leader in your organization or just beginning to think about getting involved the Leadership NSU program has something to offer you. Our guest speakers will deliver training, workshops, and presentations on topics such as service, emerging leadership, running better meetings, relationships, recruitment, brotherhood & sisterhood, communication, and much more!
To learn more about our guest speakers please visit their websites:
Dr. Lori Hart- www.thecatalystagency.us/about/lori-hart
Dr. Gentry McCreary- www.dyadstrategies.com/
Dave Kelly- www.davegonzokelly.com
Eddie Francis- www.eddiefrancis.com
Swift Kick-www.swiftkickhq.com
Phired Up- www.phiredup.com
OrgSync- www.orgsync.com
City of Natchitoches- www.natchitochesla.gov/recreation-parks/recreation-parks
SCHEDULE

Class excuses may be available to attendees. Those attending will receive an NSU lanyard, nametag, and program book.