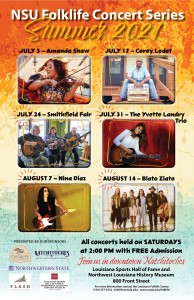 The Louisiana Folklife Center is excited to announce the 2021 NSU Folklife Concert Series. Concerts will be held on six Saturdays in July and August. Highlighting different folk musical traditions, each concert will include a 45-minute music set followed by interviews with the musicians and an audience Q&A. Each performance will take place at 2:00 p.m. at the Louisiana Sports Hall of Fame and Northwest Louisiana History Museum at 800 Front Street in downtown Natchitoches. The concert series is free and open to the general public.
The series will kick off on July 3 with Cajun music by Amanda Shaw. Zydeco artist Corey Ledet will perform on July 17. Singer-songwriter ensemble Smithfield Fair will perform on July 24. The Yvette Landry Trio will perform Cajun and classic country on July 31. San Antonio, Texas rock artist Nina Diaz will perform on August 7. Rounding out the series, Blato Zlato ("Swamp Gold" in Bulgarian) will perform Balkan music from New Orleans and Bulgaria on August 14. In addition to the music performances, 2-3 folk artists will demonstrate and sell traditional crafts on each day of the series.
Support for the NSU Folklife Concert Series is provided by grants from the Cane River National Heritage Area, Inc. and the Natchitoches Historic District Development Commission.
For more information, call the Louisiana Folklife Center at (318) 357-4332 or email folklife@nsula.edu.