About
J. G. Parrie
Academic Tech Support Specialist at Information Systems on Northwestern State University's Natchitoches campus. 208 Roy Hall. Phone #5594.
By Maggie Welch, Assistant Director of Counseling and Career Services
Northwestern State University of Louisiana
Anxiety isn't in control of me. I'm strong because …
What has helped me overcome anxiety in the past …
My happiest memory is …
I remember feeling …
What do I feel most anxious about right now? How long have I been worried about this?
I want people to know this about me.
Write a letter to […]

www.selflovecircle.co.uk
When things are tough, | want to remember…
What 3 things have I achieved today?
List 3 things that you love about yourself.
What is your biggest failure in life and what did you learn from it?
What is your greatest achievement?
What is your favorite quote?
If you knew you […]

On my worst days, I want to remember that …
What is something you can do today to make yourself feel better tomorrow?
What is the thing you value most in life and why?
What is the thing you value most in life and why?
If failure wasn't an option, what […]

How do I feel in my body right now? If I was talking to a five-year-old, how would I describe how I was feeling?
Even though I'm stressed or upset, I can't help but smile when …
What thoughts, actions, or emotions am I avoiding? What am I afraid of if I face […]

Scholars' Artist
Scholars' senior Caroline Shepherd (Fine and Graphic Arts) is selling some of her work this week! NSU's Department of Fine and Graphic Art is hosting the annual Maker's Faire in Orville Hanchey Gallery from 10 a.m.-7 p.m. Thursday, Dec. 9 and 10 am.-5:30 p.m. Friday, Dec. 10. Students and faculty from the department host […]
Scholars' Poets
Scholars' senior Meilyn Woods (Humanities & Social Thought) and junior Jonathan Gennaro (English) had their poems turned into visual art through "Words and Pictures," a joint project between creative writing and art faculty.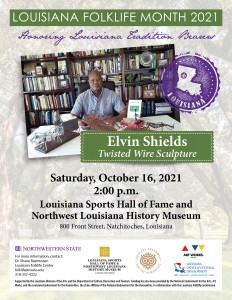 Twisted wire sculptor Elvin Shields will be named a Louisiana Tradition Bearer by the Louisiana Folklife Commission and honored at a ceremony October 16 at the Louisiana Sports Hall of Fame and Northwest Louisiana History Museum. Serving as a Folklife Ambassador for the Louisiana Folklife Commission, […]
We are using cookies to give you the best experience on our website.
You can find out more about which cookies we are using or switch them off in settings.
Privacy Overview
This website uses cookies so that we can provide you with the best user experience possible. Cookie information is stored in your browser and performs functions such as recognising you when you return to our website and helping our team to understand which sections of the website you find most interesting and useful.