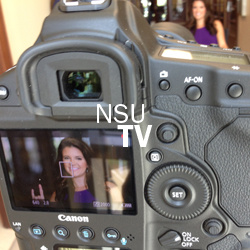 Under the direction of David Antilley II, NSU TV streams numerous campus events such as commencement and freshman convocation as well as athletic events on the NSU website

NSU's TV Studio provides a laboratory for students to gain broadcasting and communications experience, as well as experience in editing and production. The NSU TV staff is responsible for studio production, post-production and field production.  The staff also assists with special projects for academics, athletics, distance learning and continuing education.  Antilley provides further support to the Athletic Department by taping interviews with coaches and student-athletes for  local, regional, conference and national coverage for TV stations and other media outlets.  NSU TV also provides services for the community and the state, such as state-sponsored events, forums, political debates that are televised and hosted by Northwestern State.
NSU TV is the university's official television channel and provides students in the Mass Communications program in the Department of Language and Communications as well as all other university students a chance to become involved in the reporting and production aspects of television. Located in the Ora G. Williams Electronic Media Center on the first floor of Kyser Hall, the production facilities for NSU TV are state of the art and include:
Avid non-linear editing bays
both digital and mini-DV ENG cameras
5 studio quality Sony digital cameras
a teleprompter system
Ross Synergy 2 Digital Production Switcher
Pioneer DVD Recorder
Tascam CD Recorder
Procon Light Board
Disc Maker Elite Series DVD Duplicator
Clear Com Intercom System
Tascam 32-channel digital audio mixing board
Students produce a weekly live 30-minute newscast. They are also responsible for Demon Life, a 30-minute weekly talk show that features interesting aspects of university life. NSU TV also produces and records several other special-interest shows such as:
NSU…Where Great Things Happen with our university president
NSU's Lady of the Bracelet Beauty Pageant
NSU Fall and Spring Graduation Ceremonies
the Louisiana High School Quiz Bowl Championships
FTP NSU coaches interviews used by TV station across the state in there sportscast and home Demon Sporting events throughout the year.
The NSU TV studio can seat over 200 people and is used by the university and community for:
forums and debates
meetings
class projects
class presentations and movie presentations.
Contact Us
David Antilley II – Executive Director
Telephone: 318-357-4417
John S. Kyser Hall – 104A
Send comments or questions to antilleyd@nsula.edu