Positivity
Positivity is the light within us that uplift us in all circumstances. We can also nurture our positivity by thinking positive and by doing positive actions. A simple positive word like care can generate positive vibes in us to care about ourselves and others.
I will request you to think positive every day, your thinking will create your present and future!
by Demon Band
(written by Steven Verhelst) performed by NSU Euphonium-Tuba Ensemble
by Dr. Nicholaus B. Cummins
NSU – Alma Mater
Isabel Williamson (Mrs. SJ. Cumming) wrote the words to the Alma Mater in 1906.
Demon Fight Song
Larry Powell created the lyrics to the Demon Flight Song in 1970.
Choreographed by Joshua William DeAlba
Dance Classes/Workshop by Dancing Alone Together
African, Ballet Ballroom, Bollywood, Contemporary Gaga, Hip Hop, Improv, Jazz, Latin, Modern, Musical Theatre & Tap
by Dr. Patrice Moulton, Professor, Department of Psychology
by Dr. Nicholaus B. Cummins
by Dr. Nicholaus B. Cummins
by Dr. Nicholaus B. Cummins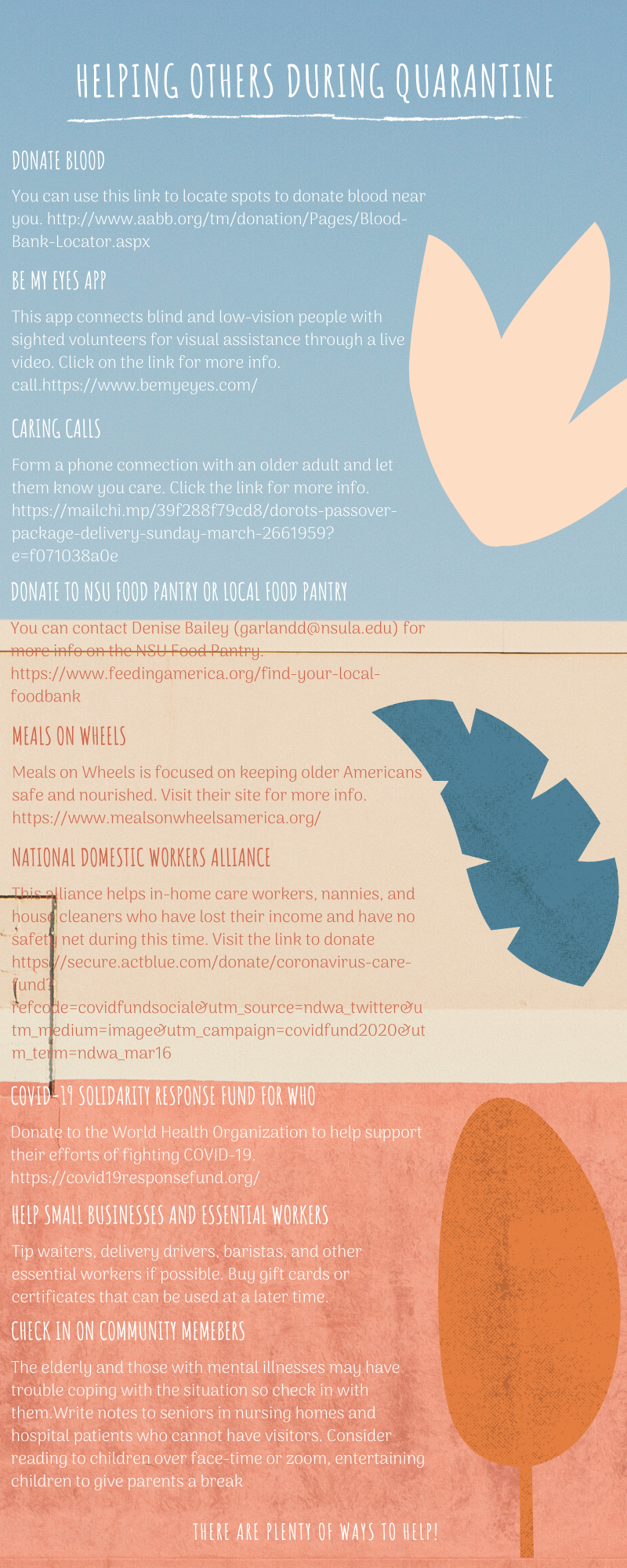 by Jessica Clark, Tutor, Academic Success Center at NSU
Donate Blood
You can use this link to locate spots to donate blood near you.
Be My Eyes App
This app connects blind and low-vision people with sighted volunteers for visual assistance through a live video. Click on this link for more info.
Caring Calls
Form a phone connection with an older adult and let them know you care. Click this link for more info.
Donate to NSU Food Pantry or Local Food Pantry
You can contact Denise Bailey (garlandd@nsula.edu) for more info on the NSU Food Pantry. Find Your Local Food Bank
Meals on Wheels
Meals on Wheels is focused on keeping older Americans safe and nourished. Visit their site for more info.
National Domestic Workers Alliance
This alliance helps in-home care workers, nannies, and house cleaners who have lost their income and have no safety net during this time. Visit this link.
Covid-19 Solidarity Response Fund for WHO
Donate to the World Health Organization to help support their efforts of fighting Covid-19.
Help Small Businesses and Essential Workers
Tip waiters, delivery drivers, baristas, and other essential workers if possible. Buy gift cards or certificates that can be used at a later time.
Check in on Community Members
The elderly and those with mental illnesses may have trouble coping with the situation so check in with them. Write notes to seniors in nursing homes and hospital patients who cannot have visitors. Consider reading to children over face-time or zoom, entertaining children to give parents a break.
There are plenty of ways to help!