Resources for Current eNSU Students
Important: Information Regarding Online Instruction
Your issues are important to us, and we will be assisting in your request as expeditiously as possible. Please visit https://support.nsula.edu and submit a request for assistance. Please provide a detailed description of your issue and supply complete contact information. Thank you for your patience. Additional resources are available below.
Website:
Learning for Life: Experience Your Future
Quality Enhancement Plan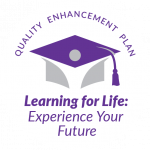 Learning for Life is more than a slogan. It represents NSU's legacy in long-time experiential learning, student teaching, and its current commitment to expanding and enhancing hands-on experiences across academic programs. The QEP is a visible, tangible, and active vehicle for Northwestern to demonstrate its commitment to innovate teaching and learning practices for student success. For more information on NSU's Quality Enhancement Plan, click here.
To find an advisor, you will need to contact your department. See below for a list of departmental email addresses for your online undergraduate programs.*
Associate of General Studies
Bachelor of Arts in Criminal Justice, w/ concentration in Prelaw and Paralegal Studies (250 B)
Bachelor of Arts in Liberal Arts
Bachelor of General Studies
Bachelor of Science in Accounting
Bachelor of Science in Addiction Studies
Bachelor of Science in Business Administration
Bachelor of Science in Computer Information Systems
Bachelor of Science in Family and Consumer Sciences w/ concentration in Child Development and Family Relations (138E)
Bachelor of Science in Psychology
Radiologic Technologist to Bachelor of Science in Radiologic Sciences
Registered Nurse to Bachelor of Science in Nursing
Bachelor of Science in Unified Public Safety Administration
Bachelor of Applied Science in Allied Health (BASAH)
All written communications should be directed to the proper University office and should be addressed to: Northwestern State University, Natchitoches, LA 71497-0002.
*If you are a graduate student, you can find contact information for your advisor on the Graduate School page: http://www.nsula.edu/graduateschool/
Academic Success Center
Our goal is to help all NSU students reach their full academic potential. All students are welcome to participate in our free academic tutoring both face to face and online. Students are provided with both one-on-one and group tutoring for most University courses.
Hours:
Sunday 4PM to 8PM
Monday through Thursday 8AM to 8PM
Friday 8AM to 12PM
Location: Watson Memorial Library, Room 108
To schedule a face to face or online appointment, click here.
Contact:
Academic Success Center
Watson Library, Room 108
Natchitoches, LA 71497
Phone: 318.357.6616
Email: academicsuccess@nsula.edu
Web: www.nsula.edu/academic-success-center/
Online students may be required to secure proctoring services for some or all exams.  Instructors will post proctoring requirements within each course.
Approved proctors will be one of the following:
An instructor-approved proctor from any Northwestern State University location, Marksville, Fort Polk, Alexandria, Natchitoches, Barksdale, Shreveport Nursing Campus or military entity.
An official testing/educational center from any accredited college, university, or military entity
University designated online proctoring service (i.e. Respondus Monitor or ProctorU)
High school students who are taking dual enrollment courses should be allowed to use their school's approved proctor, i.e. Guidance Counselor, Principal, Assistant Principal or designated teacher
Student Responsibilities
Students will be required to make the necessary arrangements for their proctored assignment and provide the necessary information to the instructor.
Students will be responsible for payment of any fees associated with using a proctor who is not on Northwestern State University campuses (i.e. University designated online proctoring service or another testing center).
Students will be responsible for making sure that any equipment required for proctoring services is obtained. For example, online proctoring services may require webcams and microphones.
Online Proctoring Information
Proctor U Exam Checklist 
Respondus LockDown Browser and Respondus Monitor Quick Start Guide
For the complete NSU Proctoring Policy, click here
The NSU Office of the Registrar provides access to both current and archived University Catalogs
here
.
Watson Memorial Library
in Natchitoches houses our main book, journal and document collection, the Cammie G. Henry Research Center, libraries central services, and administration.
EMAIL reference questions: reference@nsula.edu
Text reference questions: (318) 228-5150
Schedule Library Instruction: call 318 357-4574 or email landry@nsula.edu
Webex
is a free to use tool that allows for effective online training and courses. Teachers use Webex to conduct live class sessions with online students to create a more interactive learning environment.
Northwestern State University has a Webex specifically for the courses and workshops offered from campus. Be sure when seeking out your online course, that you are on nsula.webex.com.