NSU recognized as a Military Friendly School
By David West
4/19/2018
NATCHITOCHES – Northwestern State University has earned the 2018-19 Military Friendly School designation from Victory Media, publisher of G.I. Jobs. This Northwestern State's eighth time to receive the designation.  The list of Military Friendly schools provides a comprehensive guide for veterans and their families using data sources from federal agencies, veteran students and proprietary survey information from participating organizations.
Institutions earning the Military Friendly School designation were evaluated using both public data sources and responses from a proprietary survey completed by the school. Student survey data was also taken into consideration for the designation. More than 1,400 schools participated in the 2018-2019 survey. The 2018-2019 Military Friendly Schools list will be published in the May issue of G.I. Jobs magazine. The list can also be found at militaryfriendly.com.
"Northwestern State is honored to once again be recognized as a military friendly school," said NSU Vice President for Technology, Research and Economic Development Dr. Darlene Williams. "This distinction can be attributed to the outstanding faculty and staff at NSU who view it as a privilege to serve our military through the offering of exceptional academic programs and support services."
Methodology, criteria and weightings were determined by Victory Media with input from the Military Friendly Advisory Council of independent leaders in the higher education and military recruitment community. Final ratings were determined by combining the institution's survey scores with the assessment of the institution's ability to meet thresholds for Student Retention, Graduation, Job Placement, Loan Repayment, Persistence (Degree Advancement or Transfer) and Loan Default rates for all students and, specifically, for student veterans. Northwestern State exceeded the standards in all areas.
The Military Friendly Schools list is created each year based on extensive research using public data sources for more than 8,800 schools nationwide, input from student veterans, and responses to the proprietary, data-driven Military Friendly Schools survey from participating institutions.
The survey questions, methodology, criteria and weighting were developed with the assistance of an independent research firm and an advisory council of educators and employers. Ernst & Young, a global leader in assurance, tax, transaction and advisory services, independently evaluated the scoring methodology used for the Military Friendly Schools list using the criteria set forth by Victory Media.
Northwestern State has a campus at Leesville/Fort Polk and also offers classes at Barksdale Air Force Base in Bossier City. The university has 39 degree programs available online through nsula.edu/ensu.
Information on Northwestern State's services for veterans is available at nsula.edu/registrar/veterans-affairs.
Online programs ranked among the best for veterans
By David West
05/20/2014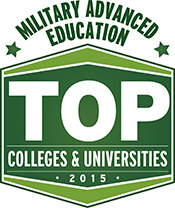 NATCHITOCHES – Northwestern State University's online bachelor's programs and online graduate programs in education were included in U.S. News and World Report's 2014 rankings of the Best Online Programs for Veterans released Tuesday.
Northwestern State's bachelor's programs were ranked 40th and the online graduate program was ranked 32nd. Only 197 of the 998 programs that reported data to U.S. News were included in the rankings.
All schools evaluated in this ranking must have been awarded a numerical rank in the overall 2014 U.S. News Best Online Programs rankings, which were released earlier this year. Those programs were assessed for various factors, including affordability, faculty credentials, student services and reputation. Only regionally accredited degree-granting programs that were predominantly online were considered.
"We are pleased to have been recognized by U.S. News for our outstanding online programs for veterans," said Dr. Darlene Williams, vice president for technology, research and economic development at Northwestern State. "Serving our military is a privilege, and Northwestern State is committed to providing educational opportunities for veterans, active duty personnel and their families."
Northwestern State has 34 accredited online programs and has been ranked among the most affordable online colleges. NSU has also been selected as a Military Friendly University four times, an honor given to only 20 percent of eligible colleges and universities.
"My experience at Northwestern State has been great," said Leann Shell, an Air Force veteran who lives at Barksdale Air Force Base in Bossier City. "The people there make the transition easy for veterans. The Veterans Affairs staff answered all my questions regarding the G.I. Bill and are very knowledgeable."
Northwestern State has a Veterans Affairs Office on its Natchitoches campus, a military liaison on its Leesville-Fort Polk campus and a coordinator on its Barksdale Air Force Base campus.
Credit for military training is available from NSU along with CLEP tests, Yellow Ribbon comparable tuition, scholarships for military students, tuition assistance and transfer credits. Northwestern State has an Army ROTC program and Air Force ROTC is available through a cooperative agreement.
Northwestern State staff assists active duty personnel, spouses, dependents and veterans. They are available to assist in evaluating transcripts, developing degree plans and scheduling classes as well as helping obtain benefits.
Information on electronic classes at Northwestern State is available at ensu.nsula.edu. Northwestern State's Veteran Affairs Website is at registrar.nsula.edu. The e-mail address is vetaffairs@nsula.edu. You can learn about the Barksdale campus at barksdale.nsula.edu or contact Donna Johnson at johnsond@nsula.edu. Additional information on the Leesville/Fort Polk campus can be found at leesville.nsula.edu. Military Liaison Officer Robert Triplett can be contacted at triplett@nsula.edu.
To be ranked, an online degree program had to report participation in four key programs that offer educational benefits to people with military service. The rakings methodology requires programs to belong to institutions that are certified for the GI Bill; they must also belong to schools participating in the Yellow Ribbon Program or public institutions that charge in-state tuition for all out-of-state veterans. The Best Online Programs for Veterans are also affiliated with schools that are members of the Servicemembers Opportunity Colleges (SOC) Consortium and offer at least one course in the Defense Activity for Non-Traditional Education Support (DANTES) catalog.
U.S. News & World Report developed the Best Online Programs for Veterans and inaugural Best Colleges for Veterans, released in November, to help the thousands of returning veterans and active-duty service members pursue college or advanced degrees under the Post-9/11 GI Bill.