NSU recognized as a Military Friendly School
By David West
11/05/2015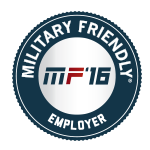 NATCHITOCHES – Northwestern State University has been designated a 2016 Military Friendly School by Victory Media, the publisher of G.I. Jobs, STEM Jobs and Military Spouse. The Military Friendly Schools designation provides service members and their families with transparent, data-driven ratings about post- military education and career opportunities. This is the sixth time NSU has been designated as a Military Friendly School.
"Northwestern State University is proud to be recognized as a Military Friendly School, and this recognition acknowledges our continued dedication to provide quality academic programs and support services for the members of the armed forces," said Dr. Darlene Williams, vice president for technology, innovation and economic development.
The Military Friendly Schools designation is awarded to colleges, universities, community colleges and trade schools in the country that are doing the most to embrace military students, and dedicate resources to ensure their success both in the classroom and after graduation.
"I have always had a pleasant experience at NSU," said graduate student Alyssa Hughey, who is on active duty in the U.S. military. "I've often been surprised at how willing the instructors and staff are in accommodating and assisting with any issues that might occur with an active duty member. I feel confident that I will be able to balance my career and furthering my education thanks to the flexibility of Northwestern."
Hughey is pursuing a master's in English and plans to graduate in the summer of 2018.
"I discovered Northwestern when I moved to my current post," said Hughey. "I was impressed with the degrees offered, and the flexibility that works with being an active duty military student. The degree will allow me to develop my skills in my current career as well as provide myself options for the future."
Institutions competed for the Military Friendly School title by completing a survey of more than 100 questions covering 10 categories, including military support on campus, graduation and employment outcomes and military spouse policies. Survey responses were scored against benchmarks across these key indicators of success. Data was independently tested by Ernst & Young based upon the weightings and methodology established by Victory Media with guidance from an independent Advisory Board of higher education and recruiting professionals.
Online programs ranked among the best for veterans
By David West
05/20/2014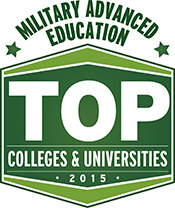 NATCHITOCHES – Northwestern State University's online bachelor's programs and online graduate programs in education were included in U.S. News and World Report's 2014 rankings of the Best Online Programs for Veterans released Tuesday.
Northwestern State's bachelor's programs were ranked 40th and the online graduate program was ranked 32nd. Only 197 of the 998 programs that reported data to U.S. News were included in the rankings.
All schools evaluated in this ranking must have been awarded a numerical rank in the overall 2014 U.S. News Best Online Programs rankings, which were released earlier this year. Those programs were assessed for various factors, including affordability, faculty credentials, student services and reputation. Only regionally accredited degree-granting programs that were predominantly online were considered.
"We are pleased to have been recognized by U.S. News for our outstanding online programs for veterans," said Dr. Darlene Williams, vice president for technology, research and economic development at Northwestern State. "Serving our military is a privilege, and Northwestern State is committed to providing educational opportunities for veterans, active duty personnel and their families."
Northwestern State has 34 accredited online programs and has been ranked among the most affordable online colleges. NSU has also been selected as a Military Friendly University four times, an honor given to only 20 percent of eligible colleges and universities.
"My experience at Northwestern State has been great," said Leann Shell, an Air Force veteran who lives at Barksdale Air Force Base in Bossier City. "The people there make the transition easy for veterans. The Veterans Affairs staff answered all my questions regarding the G.I. Bill and are very knowledgeable."
Northwestern State has a Veterans Affairs Office on its Natchitoches campus, a military liaison on its Leesville-Fort Polk campus and a coordinator on its Barksdale Air Force Base campus.
Credit for military training is available from NSU along with CLEP tests, Yellow Ribbon comparable tuition, scholarships for military students, tuition assistance and transfer credits. Northwestern State has an Army ROTC program and Air Force ROTC is available through a cooperative agreement.
Northwestern State staff assists active duty personnel, spouses, dependents and veterans. They are available to assist in evaluating transcripts, developing degree plans and scheduling classes as well as helping obtain benefits.
Information on electronic classes at Northwestern State is available at ensu.nsula.edu. Northwestern State's Veteran Affairs Website is at registrar.nsula.edu. The e-mail address is vetaffairs@nsula.edu. You can learn about the Barksdale campus at barksdale.nsula.edu or contact Donna Johnson at johnsond@nsula.edu. Additional information on the Leesville/Fort Polk campus can be found at leesville.nsula.edu. Military Liaison Officer Robert Triplett can be contacted at triplett@nsula.edu.
To be ranked, an online degree program had to report participation in four key programs that offer educational benefits to people with military service. The rakings methodology requires programs to belong to institutions that are certified for the GI Bill; they must also belong to schools participating in the Yellow Ribbon Program or public institutions that charge in-state tuition for all out-of-state veterans. The Best Online Programs for Veterans are also affiliated with schools that are members of the Servicemembers Opportunity Colleges (SOC) Consortium and offer at least one course in the Defense Activity for Non-Traditional Education Support (DANTES) catalog.
U.S. News & World Report developed the Best Online Programs for Veterans and inaugural Best Colleges for Veterans, released in November, to help the thousands of returning veterans and active-duty service members pursue college or advanced degrees under the Post-9/11 GI Bill.