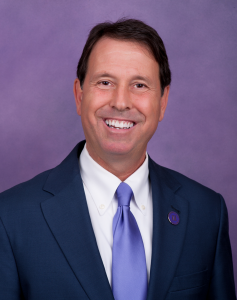 Greetings from Northwestern State University. I'm Chris Maggio, President of the university and one of more than 80,000 alumni of this historic school.
Northwestern became a trailblazer in higher education in Louisiana in 1884 and remains at the forefront of innovative educational and economic development initiatives in its 133rd year of service.
The university's main campus in Natchitoches is one of the most picturesque in America, and Northwestern provides educational opportunities at other campuses in North-Central Louisiana and through its extensive online education system.
Get to know more about Northwestern's friendly atmosphere and worldwide impact on higher education by visiting us in person or online.
Thank you for your interest in our university.
Dr. Chris Maggio became the 19th president of Northwestern State University in 2017. A lifelong resident of Natchitoches and long-time faculty and staff member at Northwestern State, he was previously vice president for the Student Experience at NSU after serving as interim vice president.
As vice president, Maggio led the Dean of Students and the Offices of Admissions, Recruiting, Financial Aid, Student Activities and Organizations, First Year Experience and Leadership Development, Judicial Services, Counseling and Career Services, Student Life, the Student Activities Board, Student Government Association and Greek Life.
Maggio served as assistant vice president of External Affairs for University Advancement from 2013 until 2015. He was named Dean of Students and assistant provost for Student Success in 2007. Maggio was selected as director of Alumni Affairs in 1999, director of Alumni and Development in 2003 and executive director of the NSU Foundation in 2005.
Under Maggio's leadership, the NSU Foundation completed its first capital campaign in Northwestern's history, exceeding a campaign goal of $18.84 million and raising $31 million to support the university. He has also been a faculty member in the Department of Health and Human Performance for more than 20 years as an instructor, assistant professor and associate professor.
During his career at NSU, Maggio also served as director of Admissions and Recruiting and director of Enrollment Services. He joined the staff at Northwestern State as women's track and field coach.
Maggio is a 1985 summa cum laude graduate of Northwestern State. As a senior, he was elected Mr. NSU by his fellow students. Maggio earned his master's of education at NSU. He received a doctorate in developmental education from Grambling State University.
Maggio is married to the former Jennifer Zeagler, who earned a graduate degree at NSU in 1992. The couple has three children, Melanie, Scott and Emily.
Caspari Hall—Suite 223
310 Sam Sibley Dr, Natchitoches, LA 71457
318.357.6441 (phone) · 318.357.4223 (FAX)