Support the Louisiana Scholars' College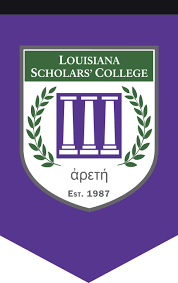 Are you ready to make a difference?
Gifts to the Louisiana Scholars' College are fully tax-deductible.
You may click on the DONATE buttons below to give online or send a check to:
Louisiana Scholars' College
110 Morrison Hall
326 Caspari St.
Natchitoches, LA 71497.
LOUISIANA SCHOLARS' COLLEGE RESEARCH FUND
Support Student Learning Experiences
The Louisiana Scholars' College Research Fund provides partial support to Scholars' students in pursuit of opportunities for intellectual and academic growth. To qualify for this award, students must be currently enrolled in the Scholars' College, in good academic standing, and have an approved research, service, or academic plan. For example, funds may be used to purchase research-related supplies, materials, and equipment; to travel to archives and field research sites; to travel on medical mission or other public service trips; and, to travel to a paid or unpaid internships or study abroad/away programs. Awards are both merit-based and need-based and dependent on availability of funds.
GOAL: $5,000.00 · CURRENT: $867.85 (17%) · NEED: $4,132.15 ·
17%
OSCAR GEORGE, JR. MEMORIAL SCHOLARSHIP
Support Endowed Student Scholarships
The Oscar George, Jr. Memorial Scholarship was established in memory of alumnus Oscar George, Jr., a 1993 graduate who went on to earn a J.D. from Northeastern University in Boston and an MBA from Suffolk University. Once endowed, the scholarship may be awarded to any Scholars' student, though preference is given to students majoring in Liberal Arts with a concentration in Humanities and Social Thought. With one more push from you, the Louisiana Scholars' College will be able to award this scholarship to a deserving student.
GOAL: $10,000.00 · CURRENT: $8,789.85 · NEED: $1,210.15 ·
88%
LOUISIANA SCHOLARS' COLLEGE PROGRAM FUND
Support Scholars' College Activities
The Louisiana Scholars' College Program Fund sustains the College by providing support for projects and activities that are not covered by the University's budget, allowing us to fulfill better our mission to provide highly motivated students with a rigorous, customized honors education firmly grounded in the liberal arts and sciences. The College relies on contributions to fund its programs, activities, and awards that support student growth both within and beyond the classroom. As you are able at this time, we invite you to support the College's programs by contributing to the program fund. Be sure to select Louisiana Scholars' College in the "Select Fund" dropdown menu.
GOAL: $10,000.00 · EXCEEDED!
100%
INTERESTED IN STARTING YOUR OWN SCHOLARSHIP, PROFESSORSHIP, OR OTHER FUND?
If you are interested in supporting the Louisiana Scholars' College in other ways, please contact Dr. Thomas Reynolds, Interim Director, at reynoldst@nsula.edu or (318) 357-4577 or visit the Northwestern State University Foundation. We are eager to match your charitable interests with the College's priorities.