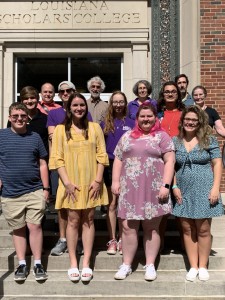 2nd Year Pinning Ceremony
The Louisiana Scholars' College celebrated its second-year Scholars' students with cupcakes at our annual Pinning Ceremony on Friday, October 15. Congratulations to these students who truly exemplify scholarly excellence and are fun to be around, too!
The second-year students include Victoria Bell, Kora Chauveaux, Kaitlyn Cloud, Emma Cockrum, Makayla Dean, Gage Gold, Colby Grayson, Jackson Gregory, Catherine Karam, Joshua Mclain, Angelo Schibetta, and Hailey Tigner.