Tech Toolbox
The Tech Toolbox is a monthly newsletter produced by the Office of Electronic and Continuing Education (ECE). It covers new upcoming technology, professional development, and other tools for course improvement and productivity. If you have an idea you would like to see in future Tech Toolbox newsletters, contact us!
TECH TOOLBOX CURRENT ISSUE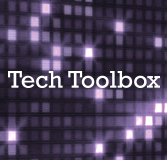 May Tech Toolbox: Tools Available to You–Microsoft 365 and Adobe Cloud
In this issue, we begin a series on "Tools available to you" to raise awareness of the full range of applications and support that NSU provides to faculty and staff.  Here, we are showing you how to access the full array of Microsoft 365 and Adobe tools provided through NSU's licensing agreements, many of which are not pre-installed on your work machines but can be accessed via the web or downloaded to your computer if you need them. Click here to read this month's Tech Toolbox.