Tech Toolbox
The Tech Toolbox is a monthly newsletter produced by the Office of Electronic and Continuing Education (ECE). It covers new upcoming technology, professional development, and other tools for course improvement and productivity. If you have an idea you would like to see in future Tech Toolbox newsletters, contact us!
TECH TOOLBOX CURRENT ISSUE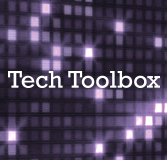 August 2019: Teaching Techniques for College Faculty
The K. Patricia Cross Academy is a library of teaching techniques that can help you engage your students. As stated on their website, the goals of this organization are to provide free videos and downloadable resources that "implement high-impact, evidence-based teaching techniques that improve students' learning, and document student learning in ways that provide the information teachers need to improve their teaching as well as assist them in their efforts for hiring, tenure, and promotion." The strategies are presented by two innovative educators: Elizabeth F. Barkley and Claire H. Major both of whom have successfully taught at the college level and have written several popular books about teaching for college instructors. If you are looking for ways to provide your students with a more interactive experience in your online or face to face classes, take some time to explore this resource.  Click here to read this month's Tech Toolbox Newsletter!