Tech Toolbox
The Tech Toolbox is a monthly newsletter produced by the Office of Electronic and Continuing Education (ECE). It covers new upcoming technology, professional development, and other tools for course improvement and productivity. If you have an idea you would like to see in future Tech Toolbox newsletters, contact us!
TECH TOOLBOX CURRENT ISSUE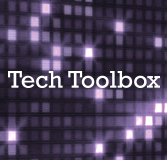 December Tech Toolbox: Moodle 3.11 Discussion Forums
This month, we are going to do a deeper dive into discussion forums, reminding you of some features that have long been available as well as pointing out some of the new features of Moodle 3.11. Click here to read this month's Tech Toolbox.