Tech Toolbox
The Tech Toolbox is a monthly newsletter produced by the Office of Electronic and Continuing Education (ECE). It covers new upcoming technology, professional development, and other tools for course improvement and productivity. If you have an idea you would like to see in future Tech Toolbox newsletters, contact us!
TECH TOOLBOX CURRENT ISSUE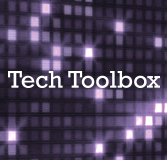 March 2020: Advanced PowerPoint Tools
We have recently been introduced to a few interesting tools within PowerPoint that can elevate your presentations. These are just a few elements that can make your PowerPoints more engaging and interactive. We hope you find something here that you can use. As always, ECE is here to help you when you decide to try some of these new features! If you have some favorite PowerPoint tips or tools, please share them with us and we may feature them in a future Tech Toolbox.