Tech Toolbox
The Tech Toolbox is a monthly newsletter produced by the Office of Electronic and Continuing Education (ECE). It covers new upcoming technology, professional development, and other tools for course improvement and productivity. If you have an idea you would like to see in future Tech Toolbox newsletters, contact us!
TECH TOOLBOX CURRENT ISSUE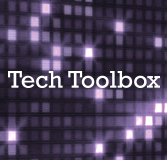 June Tech Toolbox: Online Course Development Checklist
As the summer of online classes begins, we want to share a checklist that will help you ensure that your online courses meet the highest standards of quality and serve your students well. Much planning  goes into building an online class, and you may look through this list and see that you have done most of these things already. You may also find some areas that need work. Just choose one at a time and each time you run your class, it will be better. Note: There is a PDF downloadable version of this checklist at the end of the newsletter!