Tech Toolbox
The Tech Toolbox is a monthly newsletter produced by the Office of Electronic and Continuing Education (ECE). It covers new upcoming technology, professional development, and other tools for course improvement and productivity. If you have an idea you would like to see in future Tech Toolbox newsletters, contact us!
TECH TOOLBOX CURRENT ISSUE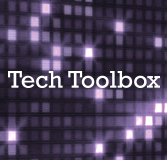 February 2019
Best Practice in the Discussion Board: Discussion boards are one of the primary ways to promote communication among students. These discussions should engage students and promote deep thinking about the course content. Are the discussions in your course engaging? Are you accomplishing the goals you want to accomplish with them? This month, we discuss some best practices that lead to productive communication in discussion forums. Click here to read this month's Tech Toolbox Newsletter!
January 2019: Note Taking on the iPad
December 2018: Preparing for Spring
November 2018: Podcasts
October 2018: Student Feedback
September 2018: WebEx Updates
August 2018: Moodle Course Formatting
July 2018: Flipgrid
June 2018: Quality Matters Resources
May 2018: iPad Apps for Education
April 2018: New Features of Office
March 2018: Managing your Grades in Moodle
February 2018: Stream
January 2018: Office Mix Updates
December 2017: Website and Moodle Updates
November 2017: Introducing Badges
October 2017: New iOS Tools
September 2017: Using Office OneDrive
August 2017: Course Reviews
July 2017: WebEx Features and Updates
June 2017: Sharing in One Drive
May 2017: Windows Movie Maker
April 2017: Explain Everything
March 2017: Office Mix
February 2017: Engaging Students Online
January 2017: Setting up your Moodle Gradebook
December 2016: Sway
November 2016: Word Styles
October 2016: PowerPoint Recording
September 2016: Video Best Practices
August 2016: Moodle Feature Spotlight
July 2016: WebEx Personal Room
June 2016: Course Graphics
May 2016: Videos in Online Courses
April 2016: Office 365
March 2016: Online Content Sources
February 2016: Augmented Reality