Tech Toolbox
The Tech Toolbox is a monthly newsletter produced by the Office of Electronic and Continuing Education (ECE). It covers new upcoming technology, professional development, and other tools for course improvement and productivity. If you have an idea you would like to see in future Tech Toolbox newsletters, contact us!
TECH TOOLBOX CURRENT ISSUE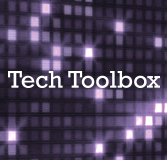 November Tech Toolbox: Stream Updates & Features
Microsoft has been steadily updating their apps during this unprecedented year. Specifically, there have been a lot of updates to Stream at the end of this year. We wanted to showcase not only some of these changes, but some other tools built into the application that you may find useful.