Tech Toolbox
The Tech Toolbox is a monthly newsletter produced by the Office of Electronic and Continuing Education (ECE). It covers new upcoming technology, professional development, and other tools for course improvement and productivity. If you have an idea you would like to see in future Tech Toolbox newsletters, contact us!
TECH TOOLBOX CURRENT ISSUE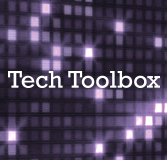 April Tech Toolbox: Effective Discussion Forums
Discussion forums can become monotonous for students and faculty alike. Are you struggling with creating engaging forums?  Are you excited to respond and grade forums, or do you dread reading repetitive, uninspired responses?  Here we present some ways to ensure that your forums are helping your students reach the objectives of your lessons and to promote maximum engagement among students.